Description
★Superior Quality: The Essential oil roller bottles are made of corrosion-resistant glass which makes them thick, smooth, and shockproof. The oil roller bottles for essential oils protect the oil against harmful UV rays to save it from quick volatilization.
• ★Stainless steel roll balls: The roll balls are made of Stainless steel, which is corrosion resistant and well-made. The tightness prevents any sort of leakage. With our complimentary opener, the battle can easily be disassembled and filled
• ★Dual Caps: The screw thread finish bottle mouth is matched with a plated aluminum alloy cap, which fits tightly and can effectively prevent any liquid leakage. You can also design your essential oil formulations with these essential oil roller bottles to would help you to relax during salon or aromatherapy.
• ★ Portability ★: The capacity allows you to store beard oil, Synthesis Oil, Natural essential oil, essence, quartz, perfume, dry flowers, or other liquids that meet your needs of daily care for eyes, faces, and body. The packaging makes it perfect for traveling and it easily fits in your purse.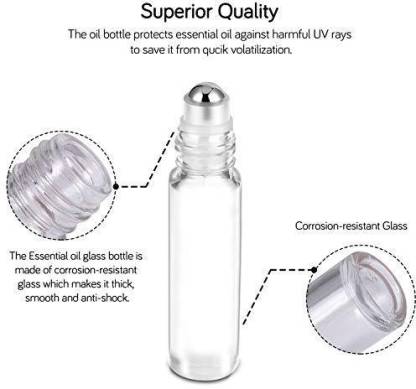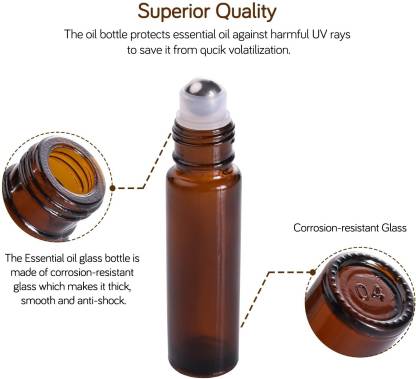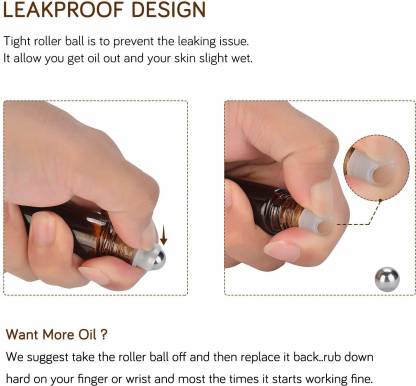 AMBER GLASS BOTTLES WITH STAINLESS STEEL METAL ROLLERBALLS AND BLACK LIDS
Tiny mini sample containers in amber glass are a great
way to share and apply essential oils, blends, and massage oils directly to the skin.  Simply roll them on as needed!  We always recommend that you use diluted oil blends with at least 1/2 carrier oils. The amber color helps protect oils from damaging ultraviolet light.  Our bottles come with durable stainless steel metal roller balls and smooth black caps.
Details
Perfect for sharing your favorite eo blends with your friends and family.
Each bottle hold 5 ml of liquid which is 1/6 oz.
The bottles are approx. 2-1/4″ tall and have a diameter of 1/2″ (with caps on).
Neck size is 12MM
They fit perfectly into our Essential Oil Bags!
Bulk pricing is available.
Please contact us if you would like multiple cases.
Instructions
Transfer your favorite eo blend or essential oil into the bottle.  You can use our pipette plastic droppers or glass droppers to accomplish this easily!  Make sure to dilute your essential oils for the best results.
After the eo is in the bottle, place the rollerball insert in the opening.  Press down firmly until the roll on insert snaps into place.  Try not to press down directly on the rollerball.  We recommend using our amazing Roller Insert Tool to help you ensure your bottles does not leak!
Please try to keep your bottles in the upright position.  During normal use the bottles should not leak.  But the oil is meant to come out of the rollerball.
Make sure you keep the lids securely tightened.  This will help the rollerball to stay in place and help prevent any leakage!  We sell labels that you can use to identify which oil is in each container.
| | |
| --- | --- |
| GZP2002-C08 | 15*100mm 12ml bottle with alu cap (S), steel  ball and white base |
| GZP2002-C09 | 15*88mm 10ml bottle with alu cap (S), steel ball and white base |
| GZP2002-C10 | 15*75mm 8ml bottle with alu cap (S), steel ball and white base |
| GZP2002-C11 | 15*65mm 7ml bottle with alu cap (S), steel ball and white base |
| GZP2002-C12 | 15*51mm 5ml bottle with alu cap (S), steel ball and white base |
| GZP2002-C13 | 15*35mm 3ml bottle with alu cap (S), steel ball and white base |