Various end-user industries such as food & beverage, healthcare, cosmetic & toiletries, and "others" (oil & lubricants, household products, agricultural products, and sporting goods) have increased demand for flexible packaging in recent years.
In the United States, flexible packaging currently accounts for 19% of the packaging market – second only to corrugated paper – and is expected to have a growth rate of 3.9% CAGR and a value of $392 billion by 2023.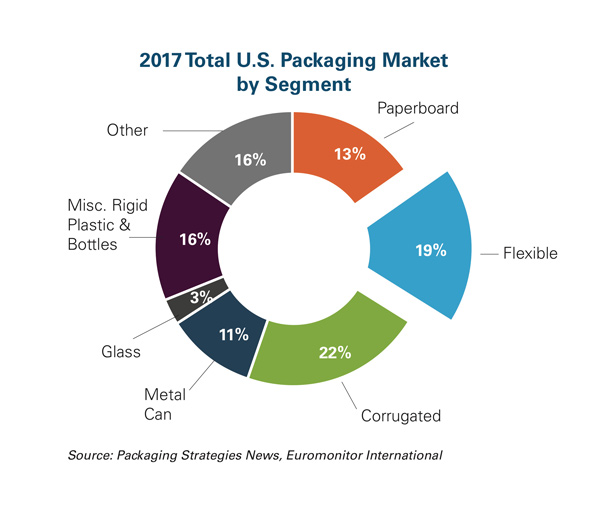 According to a new report by PMMI business intelligence: Flexible Packaging Market Assessment 2019, the US food industry is the largest segment for flexible packaging. It was an early adopter because of the convenience of packaging ready-to-eat foods, snacks, cake mixes and frozen meals.
Baby food and processed fruit and vegetables in particular are expected to exceed average industry growth rates, due to convenience factors such as innovative slider closures, fitments and pouch packaging for baby food, and retort packaging for processed fruit and vegetables.
Other industries such as beverage and pharma are also seeing strong growth in certain areas. Pouches have experienced the greatest growth within beverages as consumers seek value and convenience, while rising demand for reduced waste, shipping-friendly packaging, and greater product protection characteristics drive medical/pharma growth.
The emergence of sustainable and consumer-friendly packages has propelled the growth of the flexible packaging market. Manufacturers are shifting towards flexible packaging to produce less waste (due to lower consumption of raw materials) and to take advantage of flexible packaging's excellent barrier properties.
Source: PMMI Business Intelligence, 2019 Flexible Packaging Assessment Report. Download the free Executive Summary below. PMMI Members can download the entire report here.