New branding opens a new chapter for the world's leading event for packaging innovation in beauty, premium drinks and aerosols and aligns Easyfairs packaging events for premium and luxury markets in London, Paris and Milan.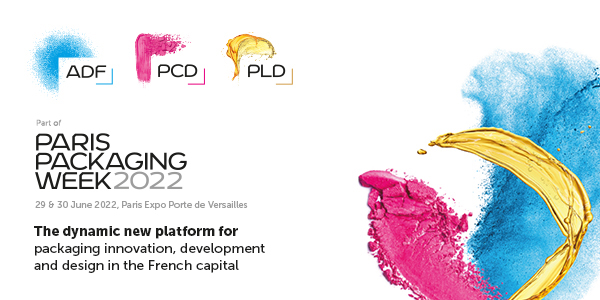 Global event organiser Easyfairs today announces a new chapter for ADF&PCD and PLD Paris, the world's leading event for packaging innovators in the beauty, premium drinks, aerosols and dispensing systems markets, with the launch of a new graphic identity and the new brand Paris Packaging Week.
The colourful and vibrant design strengthens the identity of the individual events for their markets, while creating a new platform to unite the French and international packaging communities better than ever before across Easyfairs' events in Paris, London and Milan. The new branding will be launched for the 2022 edition of ADF&PCD and PLD Paris, which will take place on 29 & 30 June 2022 at Paris Expo Porte de Versailles.
With the new branding, the event will continue to feature the three highly-focused exhibitions that have become international leaders in connecting and inspiring innovation in their respective communities:
ADF launched in 2007 and is the world's only annual exhibition that unites suppliers and buyers for the global aerosol and dispensing systems market. In 2022 it will bring together more than 100 exhibitors.
PCD is the world's leading exhibition for packaging innovators in the perfume, cosmetics and personal care markets, which launched in Paris in 2001. In 2022 it will feature around 450 suppliers of packaging and services for the beauty market.
PLD launched in 2020 and unites the premium and luxury drinks packaging community, connecting buyers and designers of packaging for wine and spirits, premium beers, ciders and non-alcoholic drinks with around 150 leading suppliers.
Alongside the three distinct but co-located exhibitions, with a total of more than 600 exhibitors, the 2022 edition of Paris Packaging Week will host a range of features designed to inspire the packaging community to create the best and most innovative packaging possible for their brands. Features will include three conference stages; a new gallery of key cross-sector packaging trends hosted by the ADF, PLD and PLD Innovation Awards; guided tours; networking areas and parties; the world's best design in the Pentawards gallery; and much more.
A new website for the event has launched at www.parispackagingweek.com with a fresh and clean user interface. A range of new functionalities are due to be introduced on the website in the coming months.
International network
Alongside a new look for the Paris event, the new branding creates a strong and coherent identity for Easyfairs' family of events for the premium and luxury packaging innovation communities in London, Paris and Milan.
In Milan, a new edition of PCD is launching in May 2022 to serve the southern European beauty market alongside Packaging Première, the leading event for luxury packaging in the region that has a particular strength in the secondary packaging market. In the UK capital, Easyfairs' existing packaging events have recently been rebranded as London Packaging Week and, in September 2022, the event will feature editions of PCD, PLD, Packaging Première and a new brand, Food & Consumer Pack, for the FMCG market.
Renan Joel, Divisional Director for Easyfairs' packaging events in the UK, France, Italy and Switzerland, says: "We are very excited to be opening this new chapter in how we connect the packaging community both in Paris and across Europe.
"Paris Packaging Week and the new identities for ADF, PCD and PLD will create a fresh new experience, both at the live events and across the year through our digital channels, to everyone involved in packaging innovation in the beauty, drinks and aerosol markets.
"Our community has told us that they want events that are more focused and the new branding will reinforce the focused environments that ADF, PCD and PLD offer for suppliers and specifiers to meet, do business and innovate together. We believe that the new identities will play a key role in creating even stronger local and international events for the packaging designers, developers and suppliers we serve."
Clean, colourful design
Designs for the new brands have been created by Butterfly Cannon, a leading London-based independent design agency in the premium and luxury sectors.
Adam Ellis, creative director at Butterfly Cannon, says: "Easyfairs came to us to create a unique and ownable brand identity that captured both the precision and passion behind their ground-breaking events. Hyper-real photography celebrates the individual characters of the different events and the visceral sense of excitement you get when visiting a live venue, whilst our bespoke typeface unifies the different events into a coherent family.
"The clean white canvas with pops of vibrant colour is a category-challenging breath of fresh air from the usual blacks and golds of these events. Designed to animate, the new identity will increase engagement with the brands from event screens through to handheld devices. We think the outcome works brilliantly against Easyfairs' future-facing, innovative approach and look forward to collaborating again in the future."
Easyfairs announced two weeks ago that the 2022 edition of ADF&PCD and PLD Paris would take place on 29 & 30 June 2022 and not in January, as originally planned. The date change is a result of the ongoing coronavirus pandemic which has made it impossible to organise the event in January.
– END –
About Easyfairs
Easyfairs organises and hosts events, bringing communities together to visit the future.
We currently organise 200 face-to-face events in 14 countries (Algeria, Belgium, Denmark, Finland, France, Germany, Italy, the Netherlands, Norway, Portugal, Spain, Sweden, Switzerland and the United Kingdom) and manage eight event venues in Belgium, the Netherlands and Sweden (Antwerp, Ghent, Mechelen-Brussels North, Namur, Gorinchem, Hardenberg, Malmö and Stockholm).
We are passionate about "easifying" the life of our customers and increasing the return on investment and return on time for professional communities through our all-in formulas, advanced technology and customer-centric approach. Our digital features and initiatives provide these communities with excellent opportunities to network effectively and do business throughout the year. We listen carefully to create compelling online formats that meet their constantly evolving needs.
The Easyfairs Group employs 600 highly committed talents, deploys the best marketing and technology tools, and develops brands with a strong appeal to our stakeholder communities.
In 2018 Easyfairs was named Belgium's "Entrepreneur of the Year®" and earned recognition as a Deloitte "Best Managed Company" and a "Great Place to Work". For the third year running, Deloitte conferred "Best Managed Company" status on Easyfairs in 2021.
The company is ranked 17th in the list of the world's leading exhibition companies.